Doberman Breeding Program
Sturgeon County, Alberta
Munro Kennels is located in Rural Sturgeon County, Alberta, only a short walk from the hamlet of Calahoo, AB, Canada. We are surrounded by rolling pastures and beautiful woodland areas, making this the perfect environment to help train and develop skills or purchase reliable pet products and ultimately help you with your new best friend.

We have been involved with purebred Dobermans since the early 2000's and we fell head over heels in love with the breed in 2004 when Mikka first joined our family. Since that time, we have been active in the community with conformation, obedience, rally obedience, agility and barn hunt events.

In 2016 Munro Kennels became officially recognized with the Canadian Kennel Club as a Doberman Breeder. After the passing of our first 2 Dobe's, We wanted to ensure new and prospective owners had a safe and reliable source for Doberman puppies true to the Mainwynd line, in addition to being a trusted source for assistance and accurate and related information for owners and future breeders.

You will find Doberman from the Mainwynd - Munro Kennels line to be naturals in the conformation ring or while participating in various performance sports.  Our breeding program focuses on animal health, an amazing family friendly temperament and physical structure which is true to the Doberman standard.

Want to learn more? Contact Us Today!
Munro Kennels 2016 - Present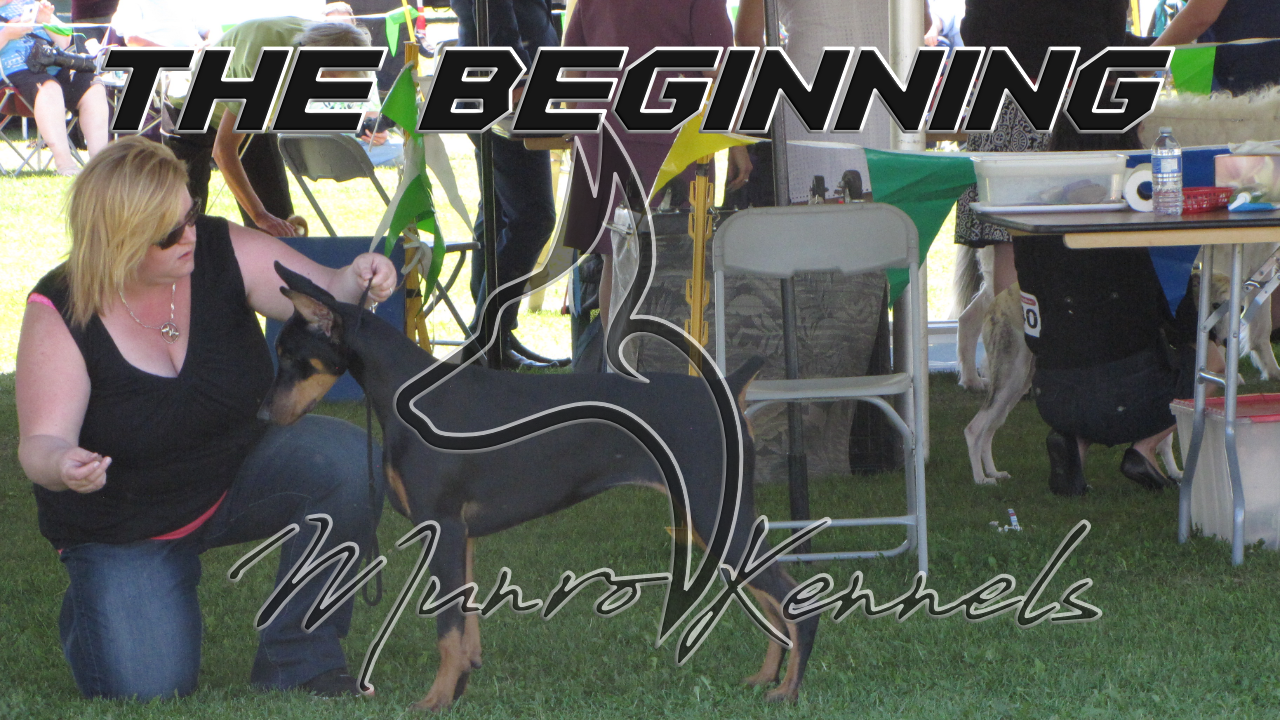 What to Expect
Something to remember is you are the best part of your dogs journey. A dog may live ten or fifteen years, on average and they want to be with you non-stop. Are you ready to make the commitment to keeping them well and happy for the duration of this time? What are your upcoming plans in life and have you made them to accommodate your new best friend? Your dog is going to want to love you please you, it may be worth while nothing some breed lines can be stubborn by nature as well. The best way to train your puppy is always with firm command, gentle touch, praise and a-lot of patience.
After Care
Most of us have not made arrangements for our pets in the event we do not make it home one night. It is important to make provisions for your pet in your will. Talk to a family member or your veterinarian/ breeder and try to make arrangements for both temporary and long-term care. Depending on the situation or in the event something might happen to your health or physical condition. In the event your pet passes first, you have the option to have them buried in a pet cemetery or have him/her cremated.
New Adventures
It is important to realize a new friend may may help you mend a broken heart, but no pet can or should be used to try and replace another. Sometimes it does help to choose a different color or sex to make it easier to avoid making unfair comparisons, or expect the new pet to be "just like the old one".
Life Happens
Sometimes things don't always work out just the way we planned. Perhaps your dog doesn't suit your lifestyle, perhaps you are moving or must give away your animal for unplanned reasons. PLEASE! DO NOT take them to a shelter. Call your breeder at the first opportunity, a responsible breeder will be happy to assist you in placing the dog in a new home or foster them while they are in need of a place to stay.